Hey you lovely Hoomans,
How has your February been, I hope it's been filled with love and light and if not here's a unicorn hug for you I pray it gets better.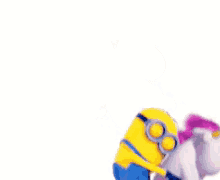 This month has been a good one for me I am especially grateful for my health. I had a panic attack last week and then I had to the hospital cause I found weird stuff on my body. This week I started having the early symptoms of Malaria but look at God I was able to treat it quickly.
So here's what I have been enjoying recently
Instagram
By the way please follow me on there if you haven't (@bookedunicorn007).
Lately I have been sharing stories on there and it's been fun. I want to grow my Insta family this year I'm working on it.

Books 
Nigerian crime books are my new Jam. I just finished My Sister the Serial Killer by Oyinkan Braithwaite ( see review here ) and I loved it. I'm moving on to Easy Motion Tourist by Laye Adenle I read the prologue and it promises an exciting story ahead.
For Audio books I'm done with Trevor Noah's Born a crime. I started Bel Canto by Ann Patchett and L1FEL1k3 by Jay Kristoff.  
Non fiction i'm reading Life's to short to go fucking slow by Susan Lacke 
Book seen on other blogs that I'm interested in ( audio killed the bookmark)  : Dark Matter by Blake Crouch.
Music
Happyland by Måns Zelmerlöw
I would love to thank Tomi Doherty (@tomidoherty_ on instagram). For putting this earworm in my head. She's an author guys check out her book Burton's children I'll do a review on it soon.
Rival sons: Sugar on the bone
League of Legends: Awaken
The Score : Pressure EP
Faouzia : exothermic (piano version)
Rocstrong: Blood spilling
What songs are you currently loving lemme know.
What Books are you enjoying currently do share your recommendations.
As always 
Booked Unicorn